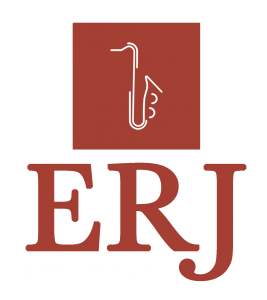 The ERJ Orchestra is the band resident on the jazz club and is formed by noteworthy professional jazz musicians from the Emilia Romagna region, also it's integrated with some of the most talented young students from the region. It's directed from the trombonist Roberto Rossi and from the art director Piero Odorici. The lineup is composed Piero Odorici, Michele Vignali, Matteo Sabatini (sax) Davide Ghidoni, Diego Frabetti (trumpet) Roberto Rossi, Giancarlo Giannini (tromboni)  Filippo Galbiati (piano) Marco Bovi (guitar) Stefano Senni (bass) Stefano Paolini (drums) just to state a few.
The repertory comprehends so many existing pieces but also quite other few songs arranged specifically for this ensemble from other great orchestras.
The project was born form the passion of several diverse components, a tight and close group, with the common goal of recreate a Jazz Orchestra that could play great traditional pieces of the contemporary jazz culture. Also give space to a real and authentic laboratory of experimental sounds and arrangements of original songs of the components of the Big Band.
To impulse the knowledge of the jazz scene, national and international wise, which is possessed from founders and directors, from collaborators, or simply from other participants which facilitates the involvement of an elevate number of regional musicists and attracts the participation of artists with a remarkable International carrier. The ideal scenario to give birth to new projects, new collaborations or simply an exchange of artists with striking importance and interest.
The ERJ Orchestra project is possible thanks to the support and the contribute of the Emilia Romagna Region "Legge Musica" L.R. 2/18, art. 8.